Dentists have long addressed chipped and broken teeth with crowns and bridges. But dental treatments have come a long way thanks to advancements in technology. While the form stays the same, CEREC crowns have changed the way dentists can support your smile.
CEREC technology allows dentists to create same-day crowns and bridges from scans of your mouth.
What Is a Dental Crown?
Dental crowns are a type of dental restoration that addresses damaged, broken, or misshapen teeth. They're essentially a prosthetic cap placed over your tooth to protect it, that acts as an anchor for a dental bridge.
Dentists can create crowns from ceramic, or metal alloys. For those who want a consistent look, crowns can be colour-matched to your natural teeth. Gold and other metal alloys tend to be stronger but don't blend in well with the rest of your smile. To solve this problem, your dentist may offer crowns with a ceramic shell fused to metal, which is less likely to break or chip.
Without CEREC technology, dentists have to get an impression of your mouth and send it to a laboratory where they manufacture the crown. This process can take up to 2 weeks.
CEREC Technology for Restorative Dentistry
CEREC stands for Chairside Economical Restoration of Esthetic Ceramic, meaning it uses computer-assisted technology to create ceramic dental prosthetics, including crowns, right in the office. That's why some people call CEREC crowns same-day crowns. CEREC crowns are the same as traditional dental crowns, just using a different process.
The CEREC procedure begins with your dentist taking a digital scan of the tooth that needs restoration, which is sent to a computer that creates a 3D model of the tooth. Your dentist uses this model to design and manufacture the crown using a milling machine.
Once made, the CEREC crown can be cemented onto your tooth almost immediately. This entire process takes about 120–150 minutes to complete, with a 40-50 minute break for the patient to relax as the crown sets.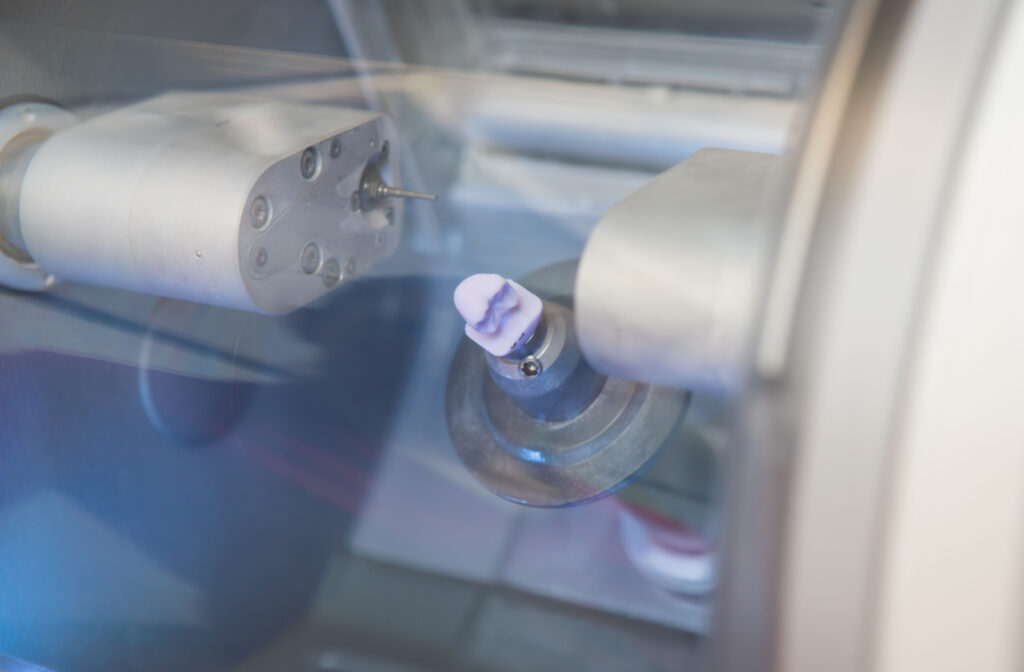 The Benefits of CEREC Crowns
The CEREC crown method uses computer-aided design and computer-aided manufacturing (CAD/CAM). This technology can reduce or eliminate the need for traditional impressions, which can be uncomfortable and time-consuming for patients. Moreover, these digital scans are sometimes more accurate than traditional impressions, which allows the restoration to fit more comfortably over the tooth.
Since the restoration is made by a milling machine, there's no need for a dental laboratory to manufacture the crown, eliminating the usual waiting time, which could be weeks.
CEREC crowns are also milled from a solid ceramic block, making them durable and resistant to abrasion. Since they don't have a metal core, they often look more natural and blend better with surrounding teeth. While CEREC and CAD/CAM can feel futuristic and new, they have over 20 years of clinical performance.
CEREC can make more than crowns, too. CEREC technology can be used to create:
Bridges
Inlays and onlays
Veneers
Implant restorations
How Long Can a Crown Last?
Crowns act like natural teeth and should be cared for in the same way. Dental crowns need to be brushed and flossed regularly to prevent plaque and bacteria buildup.
Use a soft-bristled toothbrush and fluoride toothpaste to brush your crown twice daily for at least 2 minutes. Use a dental floss or interdental brush to clean around the base of the crown where the gum meets the tooth.
While dental crowns are durable, they're not indestructible. Avoid eating sticky or hard foods that can place excess pressure on your crown and cause it to break or come loose. Avoid foods like caramel, hard candy, popcorn kernels, and ice.
Regular dental check-ups and cleanings are also essential for maintaining the function and appearance of your crown. Maintaining a healthy oral hygiene routine at home is required as teeth can still decay underneath the crown. During a check-up, your dentist can examine your crown for signs of damage or wear and make any necessary adjustments. Regular cleanings also help to remove plaque and tartar buildup that can harm your crown.
A well-cared-for crown can last up to 10 years if you're properly caring for it.
Experience a Same-Day Smile
CEREC crowns can be a revolutionary option for dental restoration. You don't have to wait to restore your teeth to their natural form and function. By having a CEREC crown, you could walk out of Shin Dentistry the same day.Visit us for your next dental exam and learn what CEREC technology can do for you.